Profile Bending


Reliability, longevity & ease of use
The HAEUSLER profile bending machines in their present design are the result of more than 60 years of experience, which is characterized by the cooperation with our customers as well as by the constant effort to improve our products.
PRV 4-roll profile bending machine

│3-D profile bending in perfection
Highest precision


Even when bending in the third dimension
At the beginning of this millennium HAEUSLER developed this machine type for the Russian aerospace industry. Continuously developed, this type of machine is now used worldwide.
HPR 3-roll profile bending machine

│The universal profile bending machine
The universal genius


for almost all sizes…
The range of HAEUSLER HPR universal profile bending machines covers in its standard versions a bending capacity from 50 to 7000 cm3 section modulus for all commercially available profile types such as U, I, T, angle, flat and round profiles as well as tubes. In addition, a large number of special profiles can be processed with this product family.
BB 3-roll profile bending machine

│ When things get bigger
Beam and tube bending machines of the BB series are in the standard version between 2 500 and 14 000 cm3 section modulus. The capacity range can be significantly extended on request. In combination with the profile bending machines type HPR HAEUSLER covers the range of section modulus up to 14 000 cm3 in the standard program.
RBA 3-roll profile bending machine

│Full automation, highest quality
Full automation,


highest quality…
In addition to the standard profile bending machines, which are of course also used for bending tubes, HAEUSLER manufactures special tube bending machines on a large scale. The RBA and the RBM (with automatic infeed roller table for the tubes) make it possible to process almost any type of tube into different types of tube coils (multi-start, conical or with varying pitches).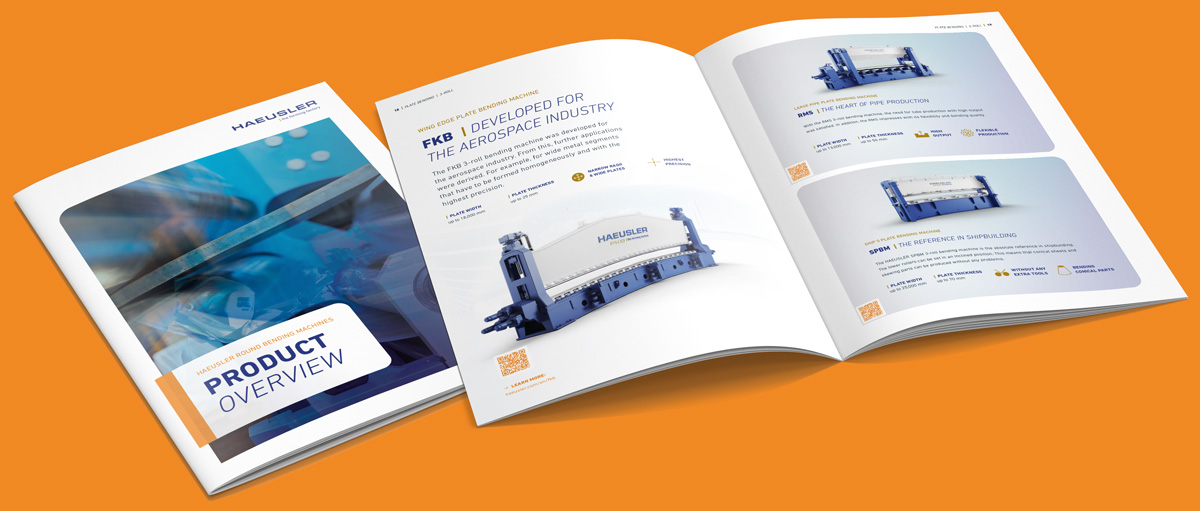 Experience the full HAEUSLER world. All products, all services, projects and more.
That could also
be of interest to you
Downloads & Media
Download additional material about our products and services.
Global Service
Whether hotline, remote access, modernization or production support: We assist you in every situation.
Round bending machines
Discover the comprehensive HAEUSLER portfolio in the area of round bending machines.